Micah-Vocals
Ennio-Guitar
Alex-Guitar
Sulli-Bass
Peoples-Drums

official site:www.haloburn.com
myspace:www.myspace.com/haloburn
purevolume:www.purevolume.com/haloburn


From the ashes of 7th RAIL CREW, INDESIT and HEADSHOT, comes one of the newer additions to your "must listen" list, the Boston-area band HALOBURN. If you dig bands like Stone Sour,Tool,Nothingface and Alice in Chains then these guys should be right up your alley. File Under: Right in your grill, rhythmically solid, metal that both you AND yo' woman can appreciate.
-Deek WBCN 104.1 FM Boston, MA

Since forming in 2003 the band has generated a large fan base which has allowed them to play many high-profile shows at some of the northeasts top venues. They have shared the stage with national acts such as Ill Nino, Mushroomhead, 40 Below Summer, Skrape, Spineshank, Dope, Death Angel, Slaves on Dope, Slitheryn, Kittie, E-Town Concrete, Adema, Shorty, Pigmy Love Circus (featuring Danny Carey of TOOL)and more

In the summer of 2004 Haloburn released a full-length album titled UNSPOKEN with producer Jim Foster, (former member of Grand Royal recording artists NULLSET).The band has received continuous airplay on AAA rock stations and numerous internet and college radio programs such as: WAAF, WBCN, WFNX, ROCK101 and www.spiderbiteradio.com. Haloburn also made the final cut in Marauder Productions horror movie Fear of Clowns when the producers picked the track Beneath the Stone to be featured in the film. The band has toured the northeast circuit continuously for two years picking up endorsements from ESP, Ernie Ball, Dirbag Clothing, Danmar Percussion and Pino Bros. Ink who funded a music video for their song "Atrophy". Since it's release the video has received tens of thousands of online downloads from the bands website and myspace profile.

Haloburn has just finished a self recorded and produced EP Ouroboros that is to be released in August of 2006. Linking up with NYC artist David Stoupakis (artist for the latest Korn album) for the cover art, the band is looking to turn some heads with an overall package that is both musically sound and artistic. Ouroboros is a symbol of rebirth. It is also means to be in an infinite state of renewal. The band has embraced the ancient symbol as its outlook on life as the band always wants to relate to its audience and offer its fans something new.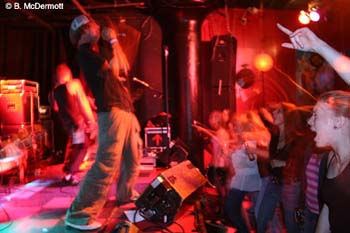 Influences: Faith No More, In Flames, Tool, Overcast, Alice in Chains, Jane's Addiction, Prong, Slayer, Clutch, Pantera, Nothingface, Killswitch Engage, Helmet, Shadows Fall, The Cult, Metallica, Nirvana, Slipknot, Megadeth, Led Zeppelin, The Doors, My Chemical Romance, Deep Purple, Lamb of God, Quicksand, As I Lay Dying, VOD, Van Halen, Mudvayne, Opeth, The Police, Bad Brains, Black Sabbath, Soulfly, Mickey Hart, NIN, Deftones and many more...